DSW Ranks Presidential Candidates
February 6: In light of the recent poll by Data for Progress, revealing that a majority of US voters support the decriminalization of consensual, adult prostitution, it is clear that sex work policy reform has become a national issue. Many Democratic primary candidates have expressed "openness to the decriminalization of sex work." Others position themselves under what they describe as decriminalization but, in effect, ranges from prohibition-style criminalization to government regulation. Others have failed to voice an opinion on this critical issue.
DSW has released its report card grading each candidate on whether and how they intend to protect the safety and health of sex workers. We assigned …
Adult Entertainment Industry Supports DSW in the Fight Against Stigma
January 22-25: DSW attended the Adult Video News (AVN) Awards Conference in Las Vegas. At this annual expo, meet-and-greet, and awards show, members of the adult entertainment industry exhibit their latest work, newest products, and talk about business initiatives. J. Leigh Brantly, Melissa Broudo, and Kaytlin Bailey presented on DSW's work at the expo.
DSW's presence highlighted the critical connection between labor rights for both legal and criminalized …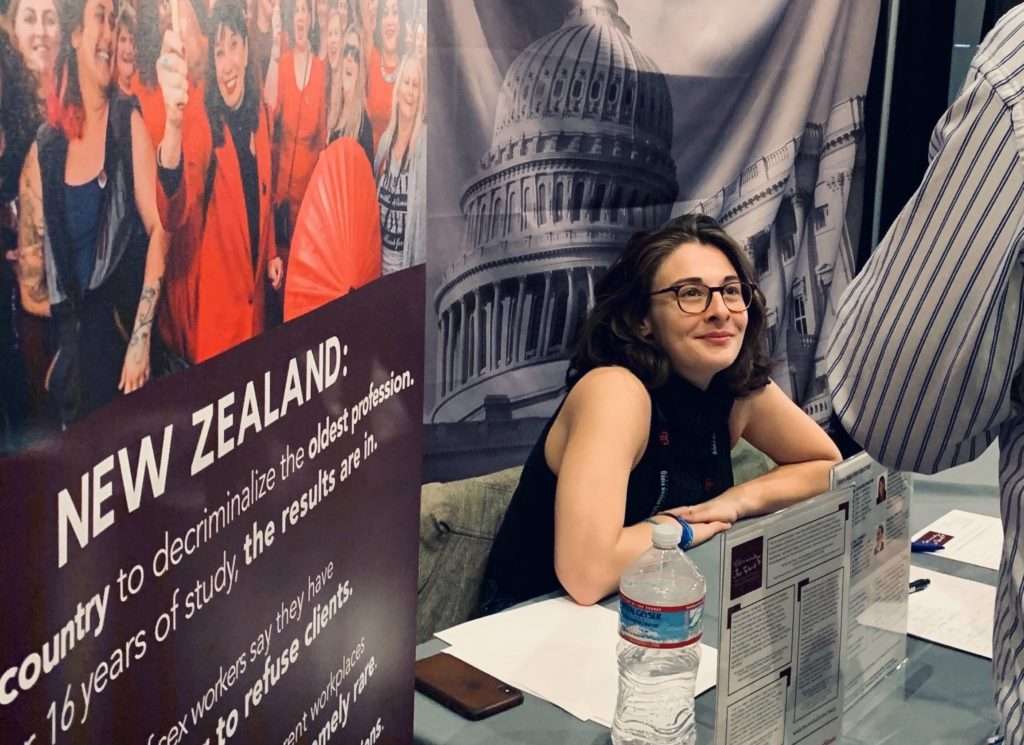 Elizabeth Nolan Brown captures Kaytlin Bailey at DSW's expo booth. (Photo: Reason, 2020)
WFF Wins Appeal in Federal Court
January 24: The U.S. Court of Appeals for the D.C. Circuit ruled that plaintiffs in the Woodhull Freedom Foundation's (WFF's) lawsuit against the United States have standing to pursue claims. This decision guarantees sex worker rights advocates their day in court. The suit brought by Woodhull, Human Rights Watch, The Internet Archive, and two other plaintiffs is a constitutional challenge to the Fight Online Sex Trafficking Act (FOSTA), which chills speech and harms sex workers. Since …
Majority of Voters Support Decrim
January 30: A national poll released by Data for Progress (DFP) found that an outright majority of voters support the full decriminalization of adult consensual sex work. Two-thirds of voters aged 18-44 support decriminalization. Full decriminalization has been widely recognized by human rights organizations as the best way to protect the health and safety of people working in the sex trade; expand labor protections; protect immigrants, …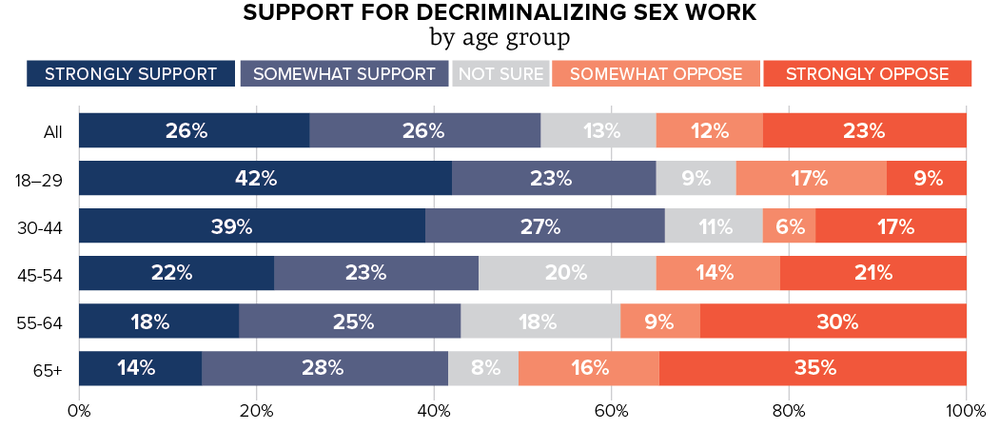 This graph from Data for Progress's report shows the age distribution of support for the full decriminalization of sex work.
FEBRUARY HERO
Marsha P. Johnson Honored by Governor Cuomo as He Endorses "Walking While Trans" Repeal
February 1: Marsha P. Johnson is the first to be honored by DSW's monthly hero campaign. Ms. Johnson, who passed away on July 6, 1992, was a queer liberation activist and one of the most prominent figures in the Stonewall Uprising of 1969. She worked as a prostitute for much of her life and is a fixture of the intersection between transgender, gender non-conforming, non-binary, and LGBTQI liberation and sex worker rights. Marsha's legacy is critical to movements fighting for New York's most vulnerable communities. Throughout her life, she spoke out against oppressive policing; advocated for sex workers, prisoners, and people …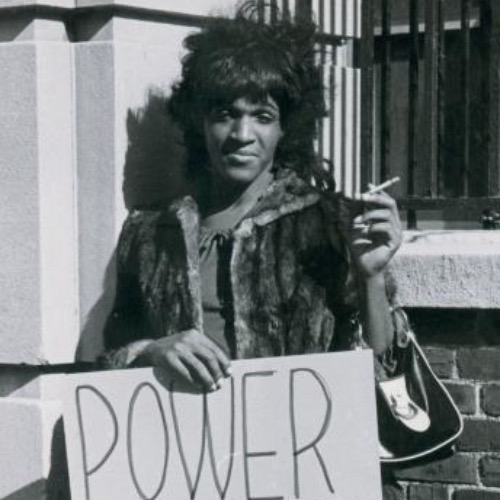 Marsha P. Johnson protests Bellevue Hospital's treatment of street people and gay people, circa 1968-75. (Photo: Diana Davies/NY Public Library)