Re/Post: Theft charges added against former cop Tyler Valimont accused in K-9 case By MELISSA KLARIC Herald Staff Writer Sep 8, 2017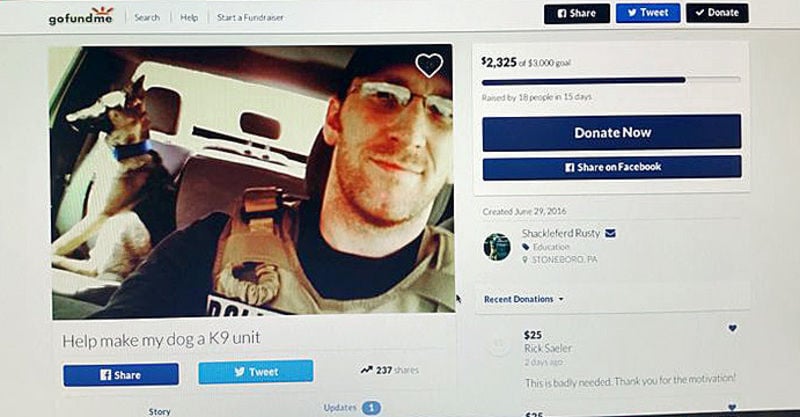 Bloggers Note:

Originally it was thought Valimont  paid the woman in his vehicle 8.00, though that dollar amount has been published here at 80.00, which is still – considerably –  below industry standard.
Re/Post MONICA PRYTS Melissa Klaric Allied News GREENVILLE PA – The former Farrell patrolman who was fired for allegedly patronizing prostitutes, was arraigned Wednesday on new charges in connection with his former duties as Stoneboro police chief. Tyler Lee Valimont, 34, of 29 E. Chestnut St., Fredonia, was scheduled for court Wednesday. That hearing was continued after the Pennsylvania State Police organized crime unit filed theft charges against him. Valimont is now accused of accepting money from 33 donors for a K-9 fund while he was Stoneboro chief, state police said. He has been charged with theft by unlawful taking and theft by failure to make required disposition of funds received – both felonies. According to a police report, the donors gave $4,765 to Valimont, which was deposited into his checking account either by check or electronically. The organized crime unit investigation revealed that only a $100 deposit was placed on a dog Valimont claimed he was going to purchase and have trained as a police drug detection K-9. Police said Valimont at first had a personal dog he wanted to have trained and certified to work in Stoneboro and the surrounding communities, but borough council denied the request in March 2016.
Valimont then started a fundraiser to train and certify for police drug detection work a German shepherd named Nakuma, police said. He created a "go fund me" page, where donations were made and funds were transferred to Valimont's personal checking account, police said.
Next, a petition on change.org, "Support 'Sig' in being a certified police dog," was created, police said. The narrative stated that Nakuma did not make the cut to qualify for training, police said.
That was confirmed by the owner of a Tennessee dog training kennel who told police that Nakuma failed out as a narcotics dog within minutes. The owner did, however, offer to sell Valimont another dog for $7,500 that had already qualified for training, police said.
Valimont paid the owner $100 up front for the new dog, and failed to pay the remainder, police said.
Valimont then solicited donations, first from Greenville Moose Club, where his mother, who is a member, presented a donation letter, according to the report. The club provided police with a copy of a check for $1,500 made out to "Stoneboro Police Chief Tyler Valimont," which was deposited into Valimont's checking account, police said.
Valimont also deposited into his account donation checks from the Mercer American Legion Post 159, and Scott A. Black Funeral Home, Stoneboro, police said.
Police said that none of the victims have had their money returned, and Valimont's account was overdrawn and eventually closed.
Valimont was arraigned by District Judge Brian R. Arthur in Greenville on Wednesday and released on $10,000 unsecured bail.
Neil McEwen, district judge in Pine Township, recused himself from the case because he had dealt with Valimont when he was Stoneboro police chief, Arthur said.
Arthur was tasked with the preliminary hearing for the Farrell charges, as Judge Ronald A. Antos also recused himself because he knew Valimont as a Southwest Mercer County Regional and Farrell police officer.
The Wednesday court date in Mercer was to decide on a motion filed by Valimont's attorney, Ryan Mergl.
"We filed a motion to suppress (Valimont's) statement in that it was obtained under false pretenses," Mergl said. "He was questioned for employment purposes, and it was used in the criminal investigation."
In response to the theft allegations, Mergl, who said he was one of Valimont's donors, said that it was Valimont's dog, and that the former chief took the dog to training in Kentucky.
"I donated myself," Mergl said of an online gofundme account Valimont had set up. "The site specifically states that the money may or may not go to the cause."
Valimont was accused in Farrell of meeting a 27-year-old woman behind a closed professional office while in full uniform and a marked police cruiser during an overnight shift in which Valimont did not conduct any basic police functions, police said.
According to the state police report, Valimont paid the same woman $80 for sex in September, a claim that is backed up by text messages.
Charges against Valimont include tampering with and fabricating evidence, obstruction of administration of the law or other governmental functions and official oppression.
Valimont was fired from his part-time post as a Farrell patrolman in December. At that time, city officials said that actions he had taken were not in line with conduct becoming a Farrell police officer.
While working on Farrell's police force, Valimont doubled as the Stoneboro police chief from August 2015 to August 2016.
He was fired from his Stoneboro position for failing to perform a number of his duties and for being "stubborn, incorrigible, arrogant, inefficient, neglectful, unaccountable and difficult to work with as an officer," according to documents from the borough acquired by The Herald's sister paper, Allied News in Grove City.
Court dates have not been set.