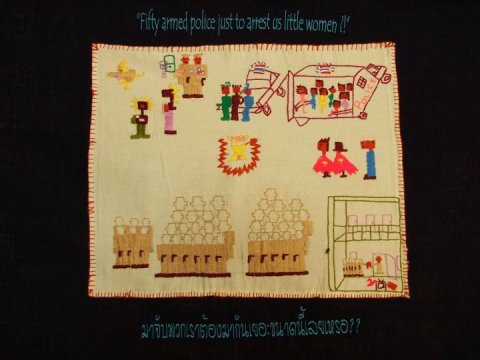 Image: A panel from 'Mida Tapestry', created by migrant sex workers to compliment the 'Hit and Run' sex worker research project. The tapestry was first publically displayed at the 12 February, 2012, launch of the 'Hit and Run' research initiative in Bangkok, Thailand. Image attributed to EMPOWER Foundation.
In 2012, Thailand's national women's sex worker organisation, the EMPOWER Foundation, released 'Hit and Run: the Impact Anti-trafficking Policy and Practise on Sex Workers' Human Rights in Thailand', a research study undertaken by sex workers identifying as both Thai nationals and migrants. The research project, which was undertaken over a 12 month period by over 200 sex workers trained in legal rights, interviewed sex workers operating from a wide range of sex industry venues, including bars, night clubs, restaurants, karaoke establishments, and brothels in Thailand, Burma and Laos. Prior to engaging in the research process the project's peer-researchers, deemed 'High Heeled Human Rights Defenders', were engaged in a 12 month training initiative, Rapid Action Training for Sex Workers (RAT-SW),instigated in 2008-2009.
Peer researchers aimed to highlight the human rights violations routinely faced by sex workers deemed 'victims' under the guise of Thailand's anti-trafficking legislation, the Prevention and Suppression of Human Trafficking Act BE 2551 (2008). The 'Hit and Run' report highlights how the implementation of the Act by government agencies actually causes more distress and harm to sex workers, rather than aiding or 'rescuing' them from the profession.
At the 21 February, 2012 launch, Chantawipa (Noi) Apisuk, Director of the EMPOWER Foundation said:
'We have now reached a point in history where there are more women in the Thai sex industry being abused by anti-trafficking practices than there are women exploited by traffickers.'
The report also identifies that migration, both within Thailand and internationally, is an intrinsic aspect of the 'culture' of sex work and that 'brokers' involved in transporting sex workers between provinces and across international borders are generally recognised as 'helpful', rather than exploitative.
'Hit and Run' makes 10 recommendations for both the Thai Government and the sex industry in relation to upholding the occupational health and safety rights of sex workers; migration policies; and recognising the agency and autonomy of sex workers to choose the profession.
To compliment the launch of 'Hit and Run', migrant sex workers based in the Northern Thai city of Chiang Mai created a multi-panelled tapestry, 'Mida Tapestry', as an illustration of the impact of police 'raid and rescue' operations on the lives of migrant sex workers. The tapestry aims to highlight the absurdity of policies in which migrant sex workers 'rescued' from the sex industry during raids areinvoluntarily detained in 'vocational' projects before being deported from Thailand and 'rehabilitated' through learning sewing skills.
EMPOWER Foundation visited Philly in 2018 Here is our group photo from Crossroads Community Center Wayne Ave
| Global Network of Sex Work Projects
https://www.nswp.org/timeline/event/hit-and-run-the-impact-anti-trafficking-policy-and-practise-sex-workers-human-rights