SHARE THE GOFUND ME LINK
https://www.gofundme.com/f/d6j5ue?utm_source=customer&utm_medium=copy_link&utm_campaign=m_pd+share-sheet
As some of you know, we made the uncomfortable but necessary decision to close for drop-in services just a little under a month ago. Since then, the entire HIPS team has been working around the clock to roll out new ways to keep our essential, life saving services going. You can click here for an updated list of HIPS services and how to access them.
Here is how you can help —
Out on the streets, we are hearing of lots of folks who are being impacted by Covid-19. Drug users are scared of going through withdrawal alone, there has been mass confusion in accessing drug treatment in the city, and the DC's homeless shelters are struggling. We are still seeing folks working on overnight outreach – because they have no other way to feed themselves or their families. It's also, really hard to stay at home when you don't have a home.
This is why it's critically important that HIPS is here. We are still providing medical, case management, drug treatment, still out for mobile services, and have a resource table in front of the drop in where clients can stop by and get information, mail and other harm reduction materials. Even through this crisis, we are still out there doing the work no one else is doing.
Most of all, please take care of yourselves — don't forget that it's okay to not be super productive during a pandemic, remember black people aren't to blame for the racial disparities we are seeing in coronavirus deaths, and let's keep demanding that sex workers and drug users aren't left out of our city's response.
In Solidarity, HIPS team
April 16, 2020 at 4:32 am EDT | by Lou Chibbaro Jr for The Blade
U.N. agency says sex workers hit hard by coronavirus pandemic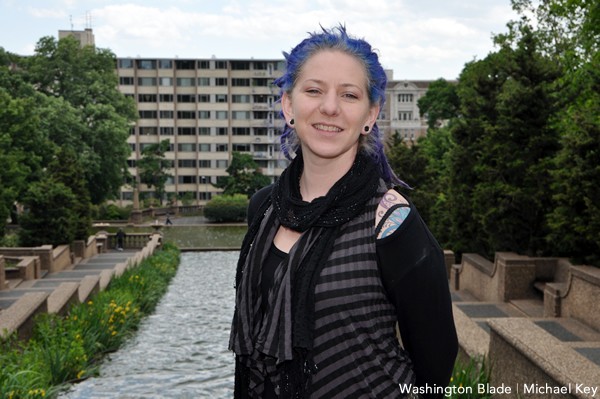 The COVID-19 pandemic is causing sex workers throughout the world, including in the U.S. and the D.C. area, to experience hardship, a total loss of income and increased discrimination and harassment, according to the United Nations agency UNAIDS and the Global Network of Sex Work Projects.
"As sex workers and their clients self-isolate, sex workers are left unprotected, increasingly vulnerable and unable to provide for themselves and their families," the two international groups said in an April 8 joint statement.
"Sex worker-led organizations from all regions are reporting a lack of access to national social protection schemes and exclusion from emergency social protection measures being put in place for other workers, particularly where sex work is criminalized," the statement says.
"Wherever and whenever possible, sex workers are responsibly self-isolating in response to governments' calls," it says. "However, when they are excluded from COVID-19 social protection responses, sex workers are faced with putting their safety, their health and their lives at increased risk just to survive."
Cyndee Clay, executive director of the D.C. sex worker advocacy group HIPS, said HIPS and the local groups No Justice No Pride and DecrimNow have collaborated to create an emergency fund to help sex workers survive financially at a time when their income has nearly disappeared and they are ineligible for unemployment insurance benefits available to other workers.
Information about how to contribute to the fund is available on the HIPS website hips.org, and on a newly created GoFundMe site https://www.gofundme.com/f/d6j5ue.
Clay said many HIPS clients are LGBT people who are homeless and do sex work as a means of survival.
Like other nonprofit organizations and businesses in the D.C. area, Clay said HIPS has had to temporarily close its offices at 906 H St., N.E. due to the coronavirus social distancing requirements. She said the group is operating nearly all of its programs remotely through phone and online services. She said HIPS continues to arrange in-person visits for clients at a table setup on the sidewalk outside the HIPS offices on H Street.
"We've modified our services schedule but everything that we've considered kind of essential is still happening," Clay said.